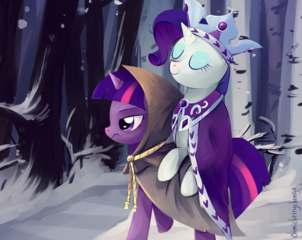 So I'm playing a video game that has an extended horseback sequence, and it's inspired me to concoct a little exercise.
For emotional science.
The Query:
- If you could ride to or through any venue on Earth (any time period) or Equestria (as we currently know it) with a pony, which pony would it be and where/when would you go?
The Assumptions:
- The ponies are large enough to support our weight and are rideable, as well as strong enough that you're no burden whatsoever.
- Bareback is totally fine and encouraged for purposes of this exercise. These aren't your average ponies and you're magically an expert rider, because I say so.
- Pegasi can still fly, unicorns can still do magic. Earth ponies can still... I dunno. Dig, or something.
The Stipulation:
- You can't get off of the pony. At all. At least until this is all over. You can slow down, trot around, but wherever you are has to be enjoyable from atop horseback until you leave. At most, this is a mutual bonding session between you and the pony, not a self-insert date.
The Suggestions:
- Before you instantly default to your favorite pony, think about all of them! You might come up with a fun combination!
And yes, stallions, princesses and ponies that would normally be fillies are fair game.
- Try somewhere you're pretty sure you would both like, or at least be able to stay occupied! It'd be counter-productive to go somewhere where one of you would fall asleep -- at least not without a good reason!
My example contribution: I would fly atop Princess Twilight through current-era Times Square in New York City. She'd absolutely gaggle at all the tech and mistake it for magic and want to know everything about how everything works and I'd tell her what I could and just watch her gush all night while huggi--erm, hanging on to her for support. This is to say nothing of being able to climb closer to the stars above.
Also, the tourists would look up and call us "Spider-Man" a lot.
There are others, too, but that's the one I would do first. Try to reply with just one and flesh it out.